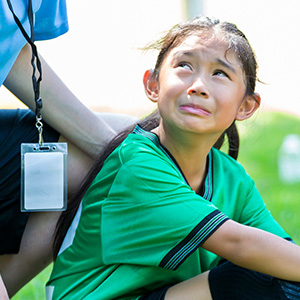 National Physical Fitness & Sports Month in May, sponsored by the President's Council on Sports, Fitness & Nutrition, is a fitting time to encourage us to play sports. Many of us already feel the Spring itch to get out there and get involved. Unfortunately, an increase in sports or exercise activities also means an increase in potential physical injury risks, including to the face and mouth.
Although COVID-19 protective measures are delaying group sports, there's hope that many leagues will be able to salvage at least part of their season. If so, you should know what to do to keep yourself or a family member safe from oral and dental injuries.
First and foremost, wear a sports mouthguard, a plastic device worn in the mouth to reduce hard impacts from other players or sports equipment. A custom-fitted guard made by a dentist offers the best level of protection and the most comfortable fit.
But even though wearing a mouthguard significantly lowers the chances of mouth injuries, they can still occur. It's a good idea, then, to know what to do in the event of an oral injury.
Soft tissues. If the lips, cheeks, gums or tongue are cut or bruised, first carefully clean the wound of dirt or debris (be sure to check debris for any tooth pieces). If the wound bleeds, place some clean cotton gauze against it until it stops. If the wound is deep, the person may need stitches and possible antibiotic treatments or a tetanus shot. When in doubt, visit the ER.
Jaws. A hard blow could move the lower jaw out of its socket, or even fracture either jaw. Either type of injury, often accompanied by pain, swelling or deformity, requires medical attention. Treating a dislocation is usually a relatively simple procedure performed by a doctor, but fractures often involve a more extensive, long-term treatment.
Teeth. If a tooth is injured, try to collect and clean off any tooth pieces you can find, and call us immediately. If a tooth is knocked out, pick it up by the crown end, clean it off, and place it back into the empty socket. Have the person gently but firmly clench down on it and call the office or go to the ER as quickly as possible. Prompt attention is also needed for teeth moved out of alignment by a hard blow.
Playing sports has obvious physical, mental and social benefits. Don't let an oral injury rob you or a family member of those benefits. Take precautions and know what to do during a dental emergency.
If you would like more information about, please contact us or schedule a consultation. To learn more, read the Dear Doctor magazine articles "An Introduction to Sports Injuries & Dentistry" and "Dental Injuries: Field-Side Pocket Guide."